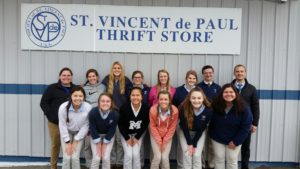 Are you looking for volunteer opportunities as we head into 2018?
Come join us at the Society of St. Vincent de Paul. We have opportunities waiting for you and your group at the SVdP Thrift Store and Food pantry.
To get started, please complete our Volunteer Form:
www.svdpevansville.org/volunteer-now/
Are you considering becoming an SVdP Member – a Vincentian?
You can learn more about what we do by visiting our Get Involved page – CLICK HERE.
We are grateful for ALL of our volunteers, and we look forward to hearing from you.