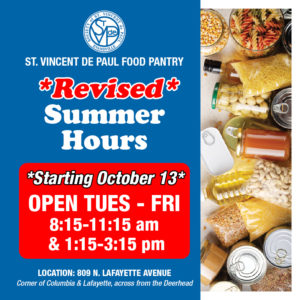 *UPDATE – October 10, 2022*
Due to lack of participation, starting October 13 there will be no more extended hours. 
---
The St. Vincent de Paul Food Pantry will be open during the summer months starting July 7 through October 27 on Thursdays from 5-7pm in addition to our regular hours. This is particularly to accommodate those whose work hours make it difficult to get to the food pantry during the day hours.
Reminders:
Eligibility is every 30 days.
To check eligibility, call 812-401-0606.
Must have an original ID for yourself and every member of your household each time you come.
SVdP Pantry Hours:
Tuesday through Friday
8:15-11:15am & 1:15-3:15pm
*Extended Hours Thursdays 5-7pm*
Location:
809 N. Lafayette Avenue
(Corner of Columbia & Lafayette, across from the Deerhead)