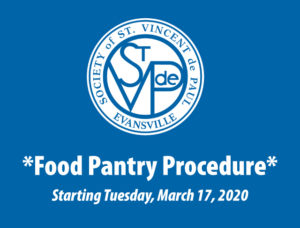 To keep our Food Pantry volunteers and community safe, the precautions listed below will be taken.
Procedure for getting food at SVDP Food Pantry – beginning Tuesday, March 17, 2020
No food referrals will be issued directly from the SVDP Food Pantry.
Instead all clients will have to call the Call Center — (812-401-0606).  No exceptions.
The Call Center will check eligibility and give that information to the SVDP Food Pantry.
The client can then come to the SVDP Food Pantry with their ID and will be given food.
…………………………..
The SVDP Office of Emergency Assistance will be taking referrals by phone only.  No Walk-Ins.
………………………….