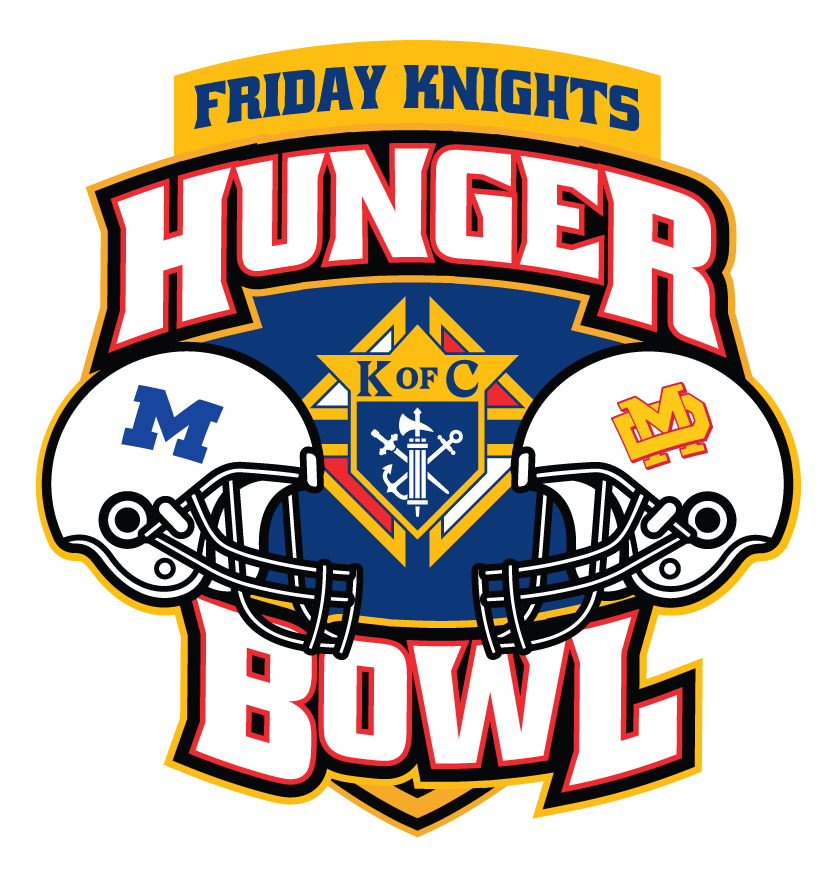 7th Annual Friday Knights Hunger Bowl to Raise Money for St. Vincent DePaul Food Pantry
The 7th Annual Friday KNIGHTS Hunger Bowl is scheduled for Friday, September 8th at Enlow Field on Washington Avenue.  Funds will be collected during the game to support the St. Vincent DePaul Food Pantry.  The Hunger Bowl Game starts at 6:30 and will feature the Mater Dei Wildcats hosted by the Reitz Memorial Tigers.  This is the seventh year for the Hunger Bowl and the event has raised nearly $60,000 to date.
The Friday Knights Hunger Bowl idea began in 2017 with a conversation between fellow Knights of Columbus John Sandwell of Council #16454 (Auxilio Council, St. Philips and Corpus Christi parishes) and Mark Hackert (St. Benedict Cathedral Council #7544).  The two wanted to determine a way for local Knights of Columbus councils to work together to promote their mission.  The conversation turned to the St. Vincent DePaul Food Pantry, managed by Benedictine Sister Donna Marie Herr, who had taught for many years at Mater Dei High School.  From this conversation, the Friday Knights Hunger Bowl during the annual contest between the two Evansville Catholic High Schools was born.
The first year, just over $3000 was raised through donations from the students of Mater Dei and Memorial.  From that beginning, the Knights worked to involve more councils, schools and parishes each year.  The event has continued to grow. Last year, the Knights were able to present a check for over $22,000 to Sister Donna Marie for the food pantry.  She thanked the area Knights of Columbus and the school communities of Mater Dei and Memorial High School, remarking on the large impact this annual event makes for Evansville's neighbors in need. "We are seeing an increase in the number of people reaching out to us because food prices are so high these days. We are sending volunteers to shop daily to keep food available on the shelves in our pantry."
This year the Friday Nights Hunger Bowl will continue to collect money at the football game and has added an electronic giving feature.  To support the event, use the button below.

Knights of Columbus Councils in our area:
Council 565—Original Council (west side)      Council 2215—Sts. Peter and Paul
Council 7544—St. Benedict Cathedral               Council 8746–St. John the Baptist Newburgh
Council 10257—Boonville                                   Council 12541—Holy Redeemer
Council 14659—St. Johns/Daylight                    Council 14673—Good Shepherd
Council 15092—Annunciation (Christ the King/Holy Rosary)
Council 16454—Auxillio (St. Phillip/Corpus Christi)
Council 10257–St. Clement(Boonville)
For more information on the Knights of Columbus and Hunger Bowl contact:
Mark Hackert 812-319-6403  mhackert76@gmail.com
John Sandwell 812-250-1923  sandwell@sbcglobal.net