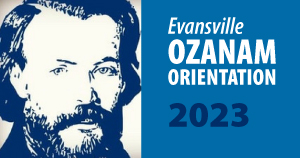 Ozanam Orientation is the program of formation for members of the Society of St. Vincent de Paul. The Rule of the Society states:
"It is essential that the Society continually promote the formation and training of its members and Officers, in order to deepen their knowledge of the Society and their spirituality, improve the sensitivity, quality and efficiency of their service to the poor and help them be aware of the benefits, resources and opportunities that are available for the poor."

(Rule: Part 1, 3.12).
The purpose of Ozanam Orientation is to introduce new members, and reacquaint existing members, with our mission and identity. The presentation engages participants in an overview of the Society's history, spirituality, structure and works. Participants are introduced to the perspectives of those in poverty as well as training on making home visits. Attendance is required for those who are new to the Society in the last 12 months and those who have never attended previously.
Evansville Ozanam Orientation 2023
WHEN: Saturday, October 21 from 9am-3pm
WHERE: Woodward Center – St. Benedict Cathedral School, 1328 Lincoln Ave, Evansville, IN 47714
Please fill out the form below to register!
Ozanam Orientation Registration