Our Mission:
St. Vincent de Paul Thrift Stores throughout the United States are an association of lay employees and volunteers dedicated to serve our needy sisters and brothers.  All who come to our thrift store are welcomed with dignity and respect.  We hope they leave as friends to shop with us again.  Those who cannot afford the clothing, furniture and other household items they need, will be provided for through a Vincentian initiated referral system.
Our customers, employees and volunteers are treated equally without regard to race, color, creed, age, sex or national origin.  All people including the disadvantaged, handicapped and other special persons are employed so that we may benefit from the talents and abilities of everyone seeking employment.
Serving Christ's needy is the first purpose of all St. Vincent de Paul stores.  To continue in this ministry, we will use sound business practices.  Surplus funds will be used to support parish conferences and other Society charitable causes approved by our councils and boards of directors.
We Come To You & Rely On You!!!
We rely on donations to fill the Thrift Store, and we can come to you to pickup your items!  To schedule a pickup, please submit the online application along with a photo of any furniture you wish to donate and an employee will be in contact with you shortly. Please go to the "Request Pickup" page  to fill out the form.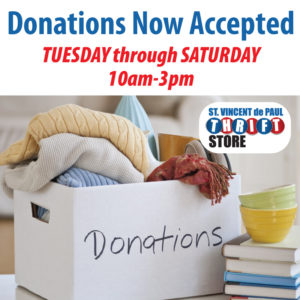 Thrift Store Location:
767 E. Walnut Street
Evansville, Indiana 47713
Phone: (812) 425-3148
Thrift Store Hours:
Sunday & Monday: Closed
Tuesday- Saturday: 10am – 5pm
Donations Accepted:
Tuesday- Saturday: 10am – 3pm
What We Accept:
Gently-used clothing, furniture, miscellaneous, household items, linens, electronics
What We Don't Accept:
Box tv's, entertainment centers, computer towers, printers,
big desks, pack and plays, car seats, headboards, footboards,
mattresses, box springs, bed springs