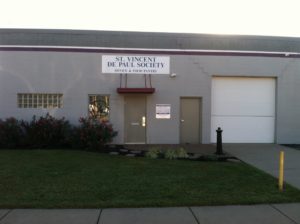 ABOUT THE FOOD PANTRY:
Providing food for the hungry is an important part of the Society of St. Vincent de Paul.  Our Food Pantry offers basic and essential food items from which nutritious meals can be created.
Many families with low incomes struggle to pay all their bills.  This leaves them "food insecure."
The St. Vincent de Paul Food Pantry IS a life-line for many families.
How you can help:
To learn how you can help by donating money or food/personal hygiene items and /or volunteering at the Food Pantry, please go to those pages.
Why a Food Pantry?
In answer to taunts to Catholics to practice what they preach Frederic Ozanam and a group of fellow students started seeking out and visiting the poor of Paris in their homes, taking them food and clothing and offering them their friendship and their concern. This small group took as their Patron the great French priest, who alerted the world to social problems, St. Vincent de Paul.
Similar groups began in Paris then to the rest of France and eventually spread throughout the Christian world with the purpose of visiting for the love of God, those in need. Currently the Society of SVDP has approximately 900,000 members in 113 countries.
Fredric Ozanam was beatified August 22, 1997 in Paris, France by Pope John Paul II.
Food Pantry Hours of Operation – Tuesday – Friday:
Referrals issued:
8:30 a.m. – 11:15 a.m.
1:15 p.m. –   3:15 p.m.
Orders filled:
8:30 a.m. – 11:30 a.m.
1:15 p.m. –   3:30 p.m.
Eligibility – every 30 days (To check eligibility, call 812-401-0606)
To learn more about our National Organization and Food Pantries across the country, please visit the Nation Website: www.svdpusa.org.
---
Food Pantry Procedure Starting March 17, 2020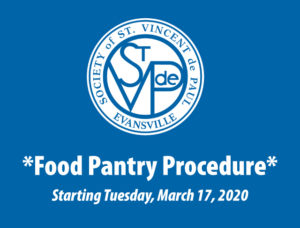 To keep our Food Pantry volunteers and community safe, the precautions listed below will be taken.
Procedure for getting food at SVDP Food Pantry – beginning Tuesday, March 17, 2020
To check eligibility – call 812-401-0606.
If you are eligible, bring your ID to the food pantry.
You will receive a 3 to 4-day supply of groceries.
…………………………..
The SVDP Office of Emergency Assistance will be taking referrals by phone only: 812-425-3485.  No Walk-Ins.
………………………….