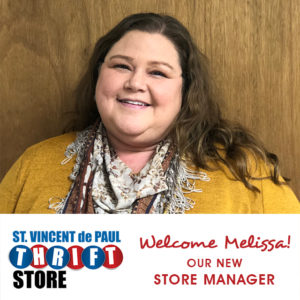 My name is Melissa Coleman, and I am blessed to be the new St. Vincent de Paul Thrift Store Manager.   I am extremely excited to be able to work with an exceptional group of employees and volunteers, who's main focus is to provide assistance to the individuals and families experiencing homelessness and/or financial difficulties in our community and the surrounding area.
Born in Memphis, Tennessee to my father a naval officer and my mother a teacher, my siblings and I were raised Episcopalian and blessed to belong to a family based on strong Christian traditions.  We moved to Newburgh, Indiana, where I attended Castle Elementary and Castle High School. I went on to study at the University of Southern Indiana.  I graduated from USI in 2001, with a Bachelor's Degree in Science with an emphasis in Graphic Design.  I then began my career in retail and retail management.
As a child, my parents, siblings and I joined and were active members at the St. Paul's Episcopal Church in downtown Evansville.  As an adult, I have continued to be an engaged member, as an Acolyte, assisting our celebrant in the church service, a Sunday School Teacher, teaching primary age children and a volunteer, taking part in various church and community activities and events.  My husband, Mark and I were married at St. Paul's in 2013, and we are the proud parents of a very adventurous 5-year-old.
My hobbies include traveling, (I have visited the Czech Republic, Spain, Germany, Italy, Great Britain and Switzerland.)  I also enjoy nature documentaries, photography, decorating with DIY projects and experimenting with new recipes.
As a Manager, my goal is to inspire and mentor my employees. I strongly believe that each employee has a unique quality and it is my responsibility to find that quality and help it excel.  It has always been my greatest accomplishment to watch an employee thrive. Here at Saint Vincent de Paul, I intend to do just that. THRIVE.
"I can do all things through Christ who strengthens me."
                        Philippians 4:13