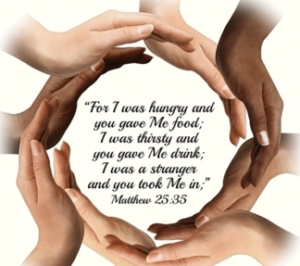 When St. Ben's Vincentians first visited Melinda last October, she had just moved into an apartment in the southeast corner of our parish. She needed our help to get the electricity turned on in that empty apartment. Melinda works on a turkey farm north of Evansville. She called us for help again recently, and again, when two St. Ben's Vincentians entered that same apartment, it was still empty.
We learned that Melinda had experienced a nervous breakdown.  We don't know what triggered her nervous breakdown, but of course she lost work.  Our immediate concern is that Melinda was $950 behind in her rent, and she is facing eviction from the empty apartment where at least she has a roof over her head.
With the alms entrusted to our care from the parishioners at St. Ben's, we were able to pay a part of Melinda's delinquent rent, hoping that it will keep Melinda off the streets and with a roof over her head.
We continue to pray for all who have unmet needs.