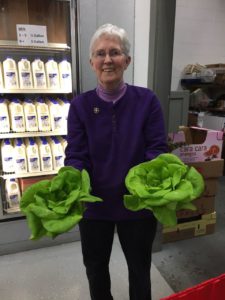 The Society of St. Vincent de Paul – Evansville District Council is proud to be part of the Healthy Harvest Program.  A major component of the program is the construction of a greenhouse and hydroponics system so fresh produce can be grown harvested, and distributed year-round to those in need.
Our partner, Seton Harvest, released the following press release and program update:
Seton Harvest Ribbon Cutting for New Hydroponic Greenhouse  Set for Thursday, May 17 at 10 AM
Evansville, Ind…Seton Harvest, a community supported agriculture initiative, will hold a ribbon cutting ceremony for its new Hydroponic Greenhouse on Thursday, May 17 at 10 AM, located at 9400 New Harmony Rd. Seton Harvest is part of the Healthy Harvest program, a new collaborative initiative between St. Vincent Evansville (Ascension), the Society of St. Vincent de Paul Food Pantry, and Seton Harvest.
In 2017, the Welborn Baptist Foundation, Inc. awarded the HEAL (Healthy Eating Active Living) Grant of $125,024 to St. Vincent Evansville to launch the Healthy Harvest program. Since that time, the grant supported Seton Harvest's construction of a greenhouse and hydroponic system which will allow for year-round growth of produce. Seton Harvest's new greenhouse and hydroponics system are expected to produce six to seven pounds of fresh produce each year. This, coupled with Seton Harvest's traditionally-farmed, naturally-grown produce, will allow the Farm to exceed its previous year's harvests' totals by an estimated 50 percent in 2018. This excess produce will all go to charity.
Harvested produce will be distributed by the Seton Harvest Vegetable Van to St. Vincent de Paul Food Pantry, Ozanam Family Shelter, St. Vincent Early Learning Center, and others.
In addition to the produce provided, supplemental education and health screenings will be offered by a St. Vincent Evansville Registered Dietitian and RN. The dietitian will create recipe cards to accompany fresh produce and provide hands-on education about healthy eating. The RN will provide much needed health screenings at the distribution sites.
Joe Schalasky, Seton Harvest Farmer shares, "Established in 2006, Seton Harvest celebrates its 12th year in 2018. The HEAL Grant allows us to explore new farming practices and the ability to grow produce year-round, increasing our ability to provide good, quality produce to those in need in our community."
You can learn more about Seton Harvest online:  http://www.setonharvest.org/
and on Facebook:  https://www.facebook.com/Seton-Harvest-175429445836315/