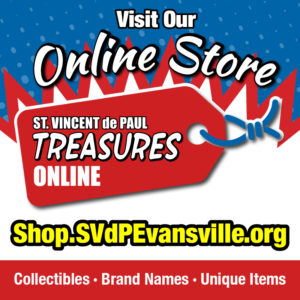 The Evansville St. Vincent de Paul Thrift Store has opened an online store for shoppers of unique treasures, collectibles, and one-of-a-kind items. Called "St. Vincent de Paul Treasures Online," the online store is accessible at SHOP.svdpevansville.org. Categories include collectibles, home décor, jewelry, toys, women's clothing, as well as brand-name items such as Michael Kors, Coach, Ralph Lauren, Kate Spade and Lego.
Over 80 items are currently listed in the online catalog, with more donated treasures added every week. Online purchases can be made with all major credit cards, ApplePay and PayPal. Cash and checks are not accepted for online purchases. Orders can be shipped or picked up locally and are typically available for shipping or pickup 2-3 business days from the day an order is placed. Notification is emailed from the store when items are available for pickup. For shipped items, an emailed notification with a shipping tracking number is sent.
Items are not available for viewing in the Thrift Store, as they are sorted and packed offsite and cannot be returned or exchanged due to the nature of inventory. Items are inspected with accurate descriptions provided for each listing. Additional photos of an item may be made available by asking the Thrift Store Manager at (812) 425-3148 or by email at store@svdpevansville.org.
If you have items that might be a great fit for either the online store or our physical store location, St. Vincent de Paul will gladly accept your donation. The Evansville St. Vincent de Paul Thrift Store is located at 767 E. Walnut Street. If you are interested in donating items, please go to the "Request Pickup" page for more information.