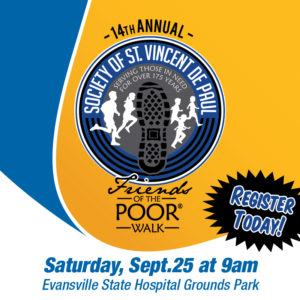 Registration for the Evansville St. Vincent de Paul's 14th annual Friends of the Poor Walk is now available online at https://www.svdpevansville.org/walk-for-the-poor/register/. The annual event is the largest fundraiser for the District Council and many of the nineteen conferences within the district.
The Walk takes place Saturday, September 25, 2021 at the Evansville State Hospital Grounds Park. Registration opens at 8:00 am with the one-mile Walk beginning at 9:00 am. There is no cost to participate, however donations are encouraged. Walk participants receive a shopping tote bag and a 2021 Friends of the Poor Walk T-shirt. All proceeds remain in our local area and are provided for direct assistance to those in financial need. Direct assistance typically is used for things like rent, utility bills, medicine co-pays, emergency repairs, and furniture and clothing vouchers used at our Thrift Store. Walkers choose the parish conference they wish to support.
The nineteen conferences in the Evansville District Council cover Gibson, Posey, Vanderburgh and Warrick Counties. The District Council also operates a Food Pantry at 809 N. Lafayette Avenue and a Thrift Store at 767 E. Walnut Street, both in Evansville.