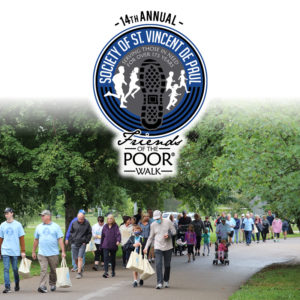 The 14th annual Friends of the Poor Walk was conducted Saturday, September 25 at the Evansville State Hospital Grounds. Over 150 individuals attended to "walk a mile in the footsteps of the poor." Walkers completed a one-mile lap through the hospital grounds.
The walk was sponsored by over 60 corporate and individual donors, raising $27,250 for the operations of the Society of St. Vincent de Paul in the Evansvillle District Council, comprised of nineteen conferences in the southwestern Indiana counties of Gibson, Posey, Vanderburgh and Warrick. Walker donations were also collected on the day of the walk, raising over $10,000 for those individual conferences and the Food Pantry to use for direct financial assistance to the poor for basic life necessities such as rent. Walker also brought both food and hygiene items for distribution through the Food Pantry.
As has become an annual tradition, Walk chairman Bill Hussmann donned his grocery bag mask, playing the part of "Philip D. Foodbank," welcoming the walkers and lining out the new route. Executive Director Joe Cook gave an update on the donations raised. Sr. Caroline Clark, DC, led the crowd in an opening prayer. Dozens of Vincentians and others volunteered to set out sponsor yard signs, put up tables for snacks and water, take registrations and donations, and distribute the free tote bags and T-shirts to walkers.
The Friends of the Poor Walk was begun by the USA national St. Vincent de Paul Council in 2007. The District of Evansville has participated each year from the beginning. The total amount raised this year for the District Council, Food Pantry and conferences this year is one of the highest since its inception.