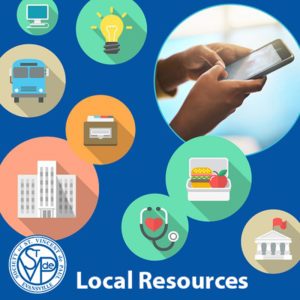 The Evansville District Council of St. Vincent de Paul has created a page on its website with information on local resources. While the primary intent of the page is to assist area Vincentians with additional resources as they make home visits, the webpage is publicly accessible to anyone seeking information on local resources.
Resources are separated into corresponding categories, with several containing links to additional websites. Mostly, information appears in easily printable .pdf and .docx formats for providing to those in need. A column for announcements contains the latest news on assistance and job listings. Categories will be added and updated as new information becomes available.
The idea for a resources page grew from an initiative of Noah Werner, Director of Client Management Systems and Systemic Change. Mr. Werner earned a degree in social work from USI and interned in several of our local agencies. Prior to his work with St. Vincent de Paul, Mr. Werner worked for Outreach Ministries providing direct client assistance and referrals to agencies. With St. Vincent de Paul, he began sending weekly email updates to Vincentians with news and links to government programs and local assistance agencies. The new webpage collects this information in one easily navigable place.
The website address is https://www.svdpevansville.org/resources.
Visit the Resources Page HERE!
Send corrections, suggestions or updates for our Resources Page! Email info@svdpevansville.org