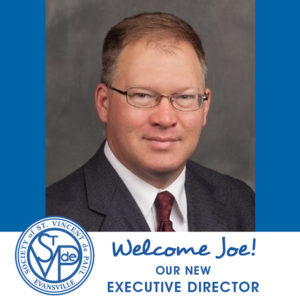 Joe Cook has been named the new Executive Director of the Evansville District of the St. Vincent de Paul Society effective August 10, 2020. He succeeds Vicki Eichmiller who was the first Executive Director and has served in that capacity since 2016.
A native of Evansville, Joe attended Reitz Memorial High School before graduating from St. Joseph's College in Indiana with a degree in communications He went on to study for the priesthood for the Diocese of Evansville at Saint Meinrad Seminary, earning a master's degree in Catholic theology, and later graduated from Western Governors University with a master's degree in management and leadership.
Joe has worked as a college campus minister at the University of Evansville's Newman Center, as alumni director for Saint Meinrad Seminary, and as coordinator of continuing education for priests at Saint Meinrad. Most recently Joe was employed at Jasper Engines and Transmissions as an internal process auditor.
During his time with the Diocese of Evansville and Saint Meinrad, Joe gave many presentations, workshops and retreats to Catholic bishops, priests, deacons, engaged couples, teenagers preparing for confirmation, parish staffs, and other Catholic groups on topics ranging from international priest acculturation and accent acquisition, mentoring of new clergy, stages of transition in priestly ministry, and retirement preparation for clergy. Most recently he was involved in the improvement of product quality through process verification, and taught classes for production leadership on quality management systems, ISO 9001 compliance, safety requirements and database management.
Joe has served on several parish and Catholic school advisory committees, is a past president of the Evansville Serra Club, and helped coordinate and present marriage preparation retreats for the Diocese of Evansville. He is a lector and cantor at his parish and serves on the Catholic Education Foundation at St. Bernard School in Rockport. Joe resides in Santa Claus, Indiana with his wife and two children.
"My goal as Executive Director is to build upon the many successful initiatives begun by Vicki Eichmiller and to find ways to assist the St. Vincent de Paul conferences in the Evansville district to increase membership in the conferences and the impact of their outreach to those in need in their communities."
Joe can be reached at his e-mail address (jcook@svdpevansville.org) or by phone (812-549-2789).