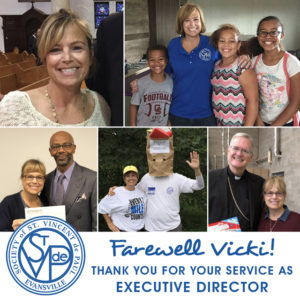 Farewell to Vicki Eichmiller, Executive Director of St. Vincent DePaul Society
Vicki Eichmiller is leaving the area and will relocate to Florida in August where her husband and family are living.  Her husband accepted a job in Florida with Lowes.  Vicki was the first Executive Director for the District of Evansville of the Society of St. Vincent DePaul and has expanded the awareness of the Society in Southwestern Indiana during her four plus year tenure.  She has secured grants from several organizations to further the mission of the Society and she has improved the position and services of the Thrift Store.  Vicki also worked with the 19 conferences in the District and the Food Pantry to assure compliance with the Society guidelines and to ensure all conferences and the Food Pantry had the tools to help those in need in the area.  She wrote several articles over the past few years for The Message to provide information to the people of Evansville about the services provided by the St. Vincent DePaul Society.
Vicki's energy, enthusiasm and smiling face will truly be missed by the Society.  She was always ready to roll up her sleeves and get the job done, whether it be at the Thrift Store, Walk for the Poor fund raiser or meeting with local dignitaries.  She was also an ambassador for the people she served.  For example, she worked feverishly to provide Christmas gifts for children who had no Christmas through the Ton of Toys Program sponsored by WIKY and Lucas Oil and she secured funds through grants to provide beds for those who otherwise would sleep on the floors.
Thank you also to your husband and children for the sacrifice they made while you stayed on as Director, while the Society took the time needed to find your replacement.
God bless you Vicki and best wishes in your new endeavors.