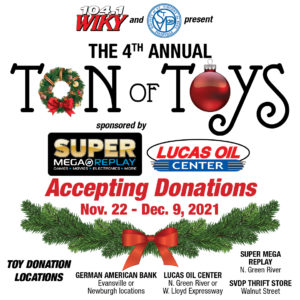 The Society of St. Vincent de Paul – Evansville District Council is partnering with WIKY 104 FM on the 4th annual Ton of Toys Program to provide toys and gifts to children in families of those experiencing financial difficulties. The annual toy drive is the brainchild of WIKY morning radio hosts Dennis Jon Bailey and Diane Douglas. St. Vincent de Paul has been part of the effort from its inception. Last year, over 130 families, comprised of 375 children, registered to participate.
Families need to be referred by a member of St. Vincent de Paul by calling (812) 425-3485. Parents "shop" for their children, which costs 25¢ per child. Shopping days are Tuesday, Wednesday and Thursday, December 14, 15 and 16. Information needed by participating families regarding hours, location, and a copy of the completed voucher will be mailed, emailed, or texted to them. Only children under the age of 18 may participate and must reside in Gibson, Posey, Vanderburgh, or Warrick counties. Families registered with any other Christmas toy giveaway program are ineligible. Requests must be received by St. Vincent de Paul by Friday, December 10.
Toy collection boxes will be placed in the lobbies of Evansville's eastside Lucas Oil Center at 2650 North Green River Road, and westside location at 4807 West Lloyd Expressway. Donation boxes will also be placed at Super Mega Replay at 683 N Green River Road in the Shoe Carnival Towne Centre, in the St. Vincent de Paul Thrift Store at 767 E. Walnut Street, and at all eight Evansville and Newburgh German American Bank lobbies. Donations will be accepted from Monday, November 22 through Thursday, December 9.
Financial donations to the Ton of Toys program can be made through our website at www.SVdPEvansville.org/ton-of-toys-2021/. All financial donations are used to purchase gifts for the children and to cover the very small administrative costs.