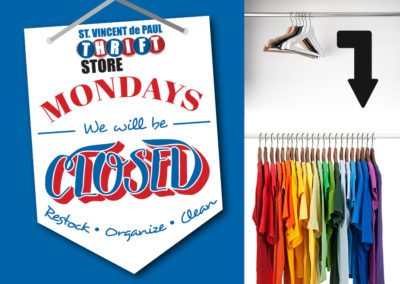 Our SVDP Thrift Store has decided to introduce new store hours to better serve the community. Starting Monday, October 7, the Thrift Store will be closed on Mondays. This will allow more time for restocking, cleaning and organizing. Also, no donations will be accepted on Mondays.
The great news is that on Tuesdays the store will be fully stocked with fresh merchandise and ready to serve. Hours on Tuesdays will also be extended from 9am-7pm starting on October 8.
Wednesday through Saturday will have our normal business hours 9am-5pm.
Thank you for being understanding of this change in order to better serve our wonderful customers!