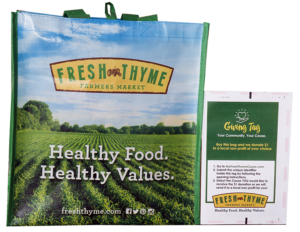 We are elated to announce that the Society of St. Vincent de Paul has been notified that we are receiving donations through the Fresh Thyme Giving Bag Program!
The program offers a special Giving Bag featuring a Giving Tag. This tag allows Fresh Thyme shoppers to direct a $1 donation to qualifying non-profits. What a great opportunity for us to raise money simply through the sale of a reusable shopping bag!
We continually appreciate all the support you give, which has allowed the Society of St. Vincent de Paul to maintain the work we do in our community.  The Fresh Thyme Giving Bag Program is a simple and fun way to continue this support!
Please visit the Evansville Fresh Thyme store location on the east side at 1121 Hirschland Road, buy the Giving Bag and follow the instructions on the Giving Tag to direct the $1 donation to our organization!
Imagine if every one of our supporters purchases just ONE bag! What if everyone bought TWO! AND purchasing these beautiful Fresh Thyme Giving Bags will support us while also helping to eliminate paper/plastic use!
Pass along this exciting news on to your friends and family. Let them know that the Fresh Thyme Giving Bags are located on various displays and at the checkout.
Thank you so much for your continued support of the Society of St. Vincent de Paul!
For more information about the program visit: freshthyme.bags4mycause.com