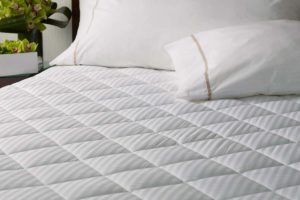 "Millie" lives alone and is currently employed at a local Circle K gas station.  Due to some health issues, she has to miss work from time to time.  At $8.50 per hour, Millie has to make hard choices from time to time regarding what bills to pay.  Having to miss work for the health issues just compounds the challenge.
When her utility bill recently came due, it was over a thousand dollars and it included a shut-off notice.  Millie called several agencies, including the Society of St. Vincent de Paul and was connected to the St. Ben's Conference.
She asked for help.  When the St. Ben's Vincentians met Millie, the utility bill was no longer a critical issue, but they quickly learned of her other needs.
For over a year Millie has been sleeping on the sofa in the living room. It's a nice sofa, but it's a lousy bed.   She was offered a voucher for a bed and frame, which she gratefully accepted!
Millie is now getting a good night's sleep on her new bed, and she wants to say, "Thank you!"
We continue to pray for all who have unmet needs.