Support SVdP with Amazon Smile!
Shop with Amazon Smile to Support SVdP-Evansville!!!
Yet another way to support our Mission.
When you shop with Amazon, .5% of the price of eligible purchases will be donated to the Society of St. Vincent de Paul – Evansville Council!
These funds stay LOCAL to support families in our community!
Thrift Store Selling Esco Chalkware Collection Online!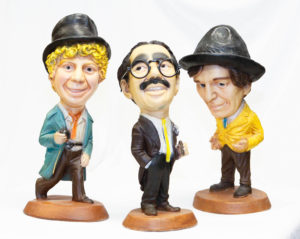 The SVdP Thrift Store recently received a collection of Esco Chalkware Statues and is currently selling the items.  Funds from the sale will be used to support the mission of SVdP and the Thrift Store.
To see the full list of statues, please visit our Esco Chalkware Statue sale page by clicking HERE!
Certificate of Excellence Awarded to Loyal Vincentians!
On June 8, 2016, the Society of St. Vincet de Paul Certificate of Excellence was awarded to individuals who exemplify what it is to be a Vincentian.  A Vincentian is a member of the Society of St. Vincent de Paul Conference for their church parish.  Vincentians are known for their compassionate outreach to the poor.  The Certificate of Excellence is one of the highest honors to be awarded at the local level.
Pictured to right – St. Vincent de Paul Secretary Cel Jarbo (red shirt) presents Certificates of Excellence to: Phyllis Alspaugh (far left) of St. Matthews; Mary Jo Bennett (far right) of Sts. Mary and John; and Tom Rusche of St. John Newburgh!
We extend our congratulations to these worthy recipients!
We are thankful for all your hard work!
1st SVdP Annunciation Parish
'Taste of Italy' a Success!!!
On April 9, 2016, the SVdP Annunciation Parish held a new fundraising event – "A Taste of Italy."  With over 140 in attendance, guests enjoyed appetizers, dinner & fellowship in the Christ the King cafeteria.  The event also served as a great opportunity to share information about the Mission of the Society of St. Vincent de Paul!
The Annunciation Vincentions say THANK YOU for all who supported and attended the event!
Do you need help?
Contact our Coordinator's Office @ 812.425.3485.
Our staff is trained to assist you and help coordinate a plan to get you the help you need.