2016 Walk a Huge Success!
NEW Thrift Store Hours Announced Beginning October 2016
The SVdP Thirft Store has announced new hours that will take effect as of October 1, 2016.
NEW Thrift Store Hours BEGINNING OCTOBER 2016:
Monday-Saturday: 9am – 5pm
Sunday: Closed
Please visit the SVdP Thrift Store page for more information.
Friends of the Poor Walk a Huge Success!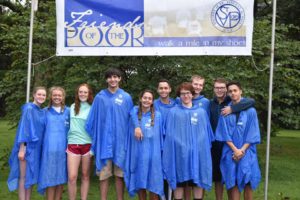 Bigger and better means more resources to serve the poor.  The annual event, held September 17th, once again raised tens of thousands of dollars to directly support those in need in our community.
We want to thank ALL of our sponsors, participants and volunteers who make this event possible!  We will have more information to share in the near future.
Bill Finds a Safety Net in SVdP
Bill is a hard-working truck driver who, due to a medical condition, found himself unable to work, without a home, and had to let his family disperse while he got back on his feet.
He was able to seek the assistance of various SVdP services and programs, and his life got back on the road!
Please CLICK HERE to read Bill's SVdP success story!
Shop with Amazon Smile to Support SVdP-Evansville!!!
Yet another way to support our Mission.
When you shop with Amazon, .5% of the price of eligible purchases will be donated to the Society of St. Vincent de Paul – Evansville Council!
These funds stay LOCAL to support families in our community!
To support SVdP when you shop on Amazon, please use our unique Amazon Smile link:
https://smile.amazon.com/ch/26-4393071
Do you need help?
Contact our Coordinator's Office @ 812.425.3485.
Our staff is trained to assist you and help coordinate a plan to get you the help you need.